How to give EpiPen in English and other Languages
Step by step instructions for giving EpiPen adrenaline (epinephrine) autoinjectors are available below in English and other languages.
These translations were funded by an educational grant from the Sydney Children's Hospitals Network (SCHN).
English


ASCIA_PCC_How_to_give_EpiPen_2018101.81 KB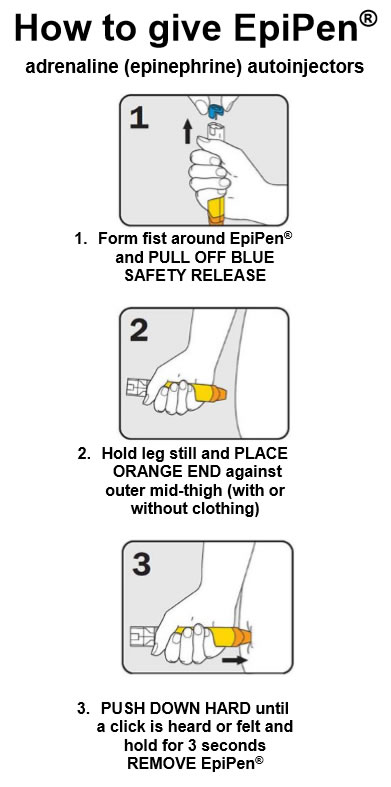 The following translated documents include:
• Reduced injection time from 10 to 3 seconds
• Removal of the massage step after the injection
EpiPens with a 10 second label can continue to be used and should not be replaced unless they have been used, are just about to expire or have expired. All EpiPens should now be held in place for 3 seconds, regardless of the instructions on the label. However, if they are held for 10 seconds it will not affect the way that the adrenaline works.
Arabic


Arabic ASCIA PCC How to give EpiPen 2017199.8 KB
Chinese Simple


Chinese Sim ASCIA PCC How to give EpiPen 2017183.81 KB
Chinese Traditional


Chinese Trad ASCIA PCC How to give EpiPen 2017184.91 KB
Dinka (South Sudan)


Dinka ASCIA PCC How to give EpiPen 2017160.27 KB
French


French ASCIA PCC How to give EpiPen 2017128.83 KB
German


German ASCIA PCC How to give EpiPen 2018180.72 KB
Greek


Greek ASCIA PCC How to give EpiPen 2017168.79 KB
Hindi


Hindi ASCIA PCC How to give EpiPen 2017160.87 KB
Indonesian


Indonesian ASCIA PCC How to give EpiPen 2017130.41 KB
Italian


Italian ASCIA PCC How to give EpiPen 2017128.82 KB
Japanese


Japanese ASCIA PCC How to give EpiPen 2017174.87 KB
Karen


Karen ASCIA PCC How to give EpiPen 2018 366.08 KB
Khmer


Khmer ASCIA PCC How to give EpiPen 2018152.88 KB
Korean


Korean ASCIA PCC How to give EpiPen 2017266.13 KB
Lao


Lao ASCIA PCC How to give EpiPen 2018166.18 KB
Macedonian


Macedonian ASCIA PCC How to give EpiPen 2017194.99 KB
Persian/Dari


Persian ASCIA PCC How to give EpiPen 2017167.16 KB
Spanish


Spanish ASCIA PCC How to give EpiPen 2017128.86 KB
Tagalog (Philippines)


Tagalog ASCIA PCC How to give EpiPen 2017128.72 KB
Thai


Thai ASCIA PCC How to give EpiPen 2018160.07 KB
Turkish


Turkish ASCIA PCC How to give EpiPen 2017166.29 KB
Vietnamese


Vietnamese ASCIA PCC How to give EpiPen 2017169.19 KB
Content Updated July 2018