ASCIA anaphylaxis e-training for first aid (community) 2021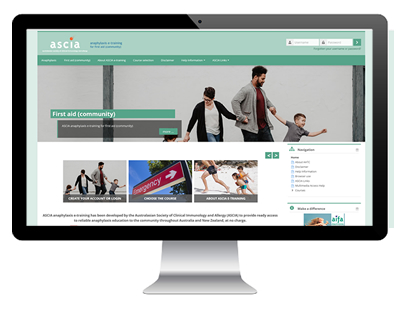 ASCIA anaphylaxis e-training for first aid (community) has been developed for people in the community, who need to know how to treat anaphylaxis in an emergency, but are not health professionals.
This includes people with allergies, their parents, carers, friends and colleagues. It is also suitable for people in workplaces, clubs and other institutions throughout Australia and New Zealand.
The course provides accessible, consistent and evidence based anaphylaxis education and is available free of charge at https://anaphylaxis.ascia.org.au
The course has been updated in 2021 to include two brands of adrenaline (epinephrine) injectors. New infographics and animated videos have also been included, to make the course more interactive and easier to complete.
Development and updating has involved an extensive review process with ASCIA members and other stakeholders throughout Australasia.
The course modules can be accessed in any order, however it is recommended that the modules are completed in the order presented. Successful completion of the final module allows you to print a certificate containing your name, the date and your pass mark.
Content updated October 2021