Initiatives and Priorities 2022-2023
ASCIA's purpose is to advance the science and practice of allergy and clinical immunology.
This is achieved by promoting the highest standard of medical practice, training, education and research, to improve the quality of life and health of people with immune system disorders. These include allergies, immunodeficiencies and other immune diseases.
To achieve its Purpose, ASCIA undertakes a wide range of initiatives that are prioritised to maximise benefits to ASCIA members. ASCIA priorities for 2022-2023 include: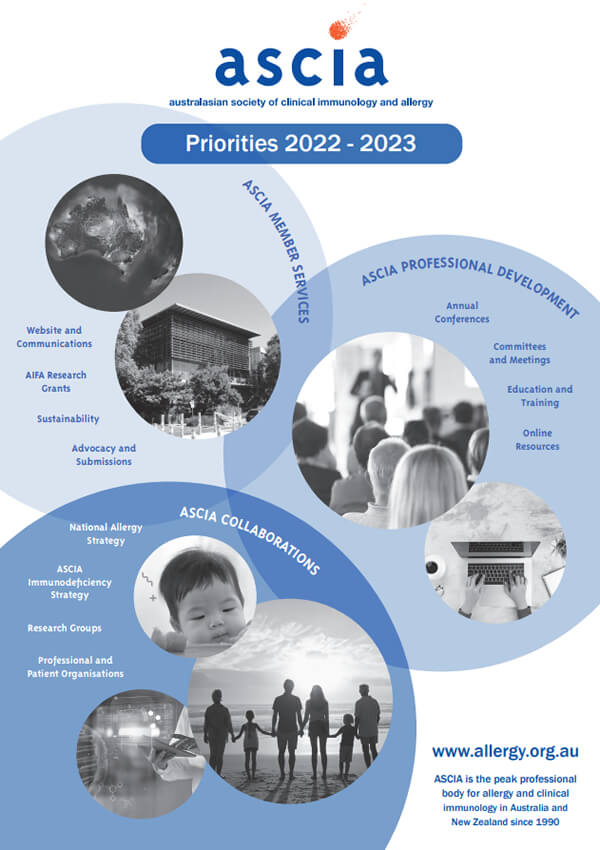 ASCIA Priorities 2022-202390.86 KB
ASCIA Member Services
ASCIA member services have continued to expand in 2022, including:
Communication – Each month ASCIA informs members and the community of new and updated information about allergy and immunology via emails, ASCIA e-newsletters (more than 5,000 subscribers in 2022), and social media.
Website - Access to ASCIA member only website resources include ASCIA slides, food and drug (medication) allergen challenge protocols, and draft ASCIA information.
Website - Listing on the 'How to Locate a Specialist' section – Full ASCIA members are eligible for one or more listings on the ASCIA website allergy.org.au/patients/locate-a-specialist
Advocacy and Submissions – ASCIA continues to advocate on behalf of ASCIA members to government and other organisations by lodging letters, submissions and reports, and working in collaborations. For details go to www.allergy.org.au/ascia-reports#s1
AIFA research grants
Only ASCIA members are eligible to apply for Allergy and Immunology Foundation of Australasia (AIFA) research grants
A total of $629,000 awarded to 27 research projects since 2015
The 18 research projects that received AIFA grants up to 2020 have been presented at ASCIA Conferences
Thank you to our generous donors, sponsors and grant selection panel
For details go to www.allergyimmunology.org.au/grants
Research awarded AIFA grants are listed at www.allergyimmunology.org.au/projects
To donate or sponsor a grant go to www.allergyimmunology.org.au/donate
Sustainability - ASCIA has been operating in a sustainable way over the past 30 years, to meet the needs of ASCIA members and the community, whilst ensuring that ASCIA's operations are financially viable and environmentally sustainable into the future. For details go to www.allergy.org.au/about-ascia/sustainability-2020-to-2022

Professional Development - ASCIA Annual Conferences
ASCIA Annual Conferences have provided an international standard of continuing professional development (CPD) since 1990, and are a highlight of the year for health professionals working in allergy, clinical immunology and immunopathology.
The ASCIA 2022 Conference was a highly successful hybrid event which was held from 30 August to 2 September. To read more go to www.allergy.org.au/conferences/ascia-annual-conference
Professional Development - ASCIA Committees and Meetings
ASCIA committees and working parties – Only ASCIA members are eligible to join ASCIA committees and working parties allergy.org.au/members/committees
ASCIA educational meetings – Only ASCIA members are eligible to attend ASCIA regional educational and training meetings.
Professional Development - ASCIA Online Resources, Education and Training
The ASCIA team works with ASCIA member committees and working parties to review, update and develop world leading, accessible, consistent and evidence based resources, education and training, to support ASCIA members, other health professionals, patients, carers and the community.
As part of ASCIA's ongoing commitment to improving access to ASCIA website resources, education and training, new webpages have been developed for:
ReadSpeaker is available on the ASCIA webpages for patients and carers, to further improve access for people with:
Vision impairment, limited reading ability or learning disabilities, by allowing text to speech (TTS).
Non-English speaking backgrounds - information can be translated into 20 different languages by highlighting the text and selecting 'translate'.
To find out how ASCIA resources are developed go to: www.allergy.org.au/about-ascia/website-information
Collaborations - National Allergy Council
In 2022 ASCIA continues to contribute to, and promote the following National Allergy Strategy projects:
Collaborations - ASCIA Immunodeficiency Strategy
The purpose of the ASCIA Immunodeficiency Strategy for Australia and New Zealand is to improve the health and wellbeing of people with primary immunodeficiencies (PID), also known as inborn errors of immunity (IEI), and minimise the burden on individuals, carers, healthcare services and community. The Strategy is critical for advocacy on behalf of patients with immunodeficiencies.
The ASCIA Immunodeficiency Strategy was launched on 29 April 2022, the International Day of Immunology, and is available at www.nationalimmunodeficiencystrategy.org.au
To find out more about the launch, inclduing media coverage, go to to www.allergy.org.au/about-ascia/info-updates/ascia-immunodeficiency-strategy-launch
Collaborations - Research Groups, Professional and Patient Organisations
In addition to the National Allergy Strategy and the ASCIA Immunodeficiency Strategy, ASCIA collaborates with over 30 research, professional and patient organisations. For details go to www.allergy.org.au/about-ascia/collaborations
Content updated September 2022