ASCIA website information
Overview
ASCIA is the peak professional body of clinical immunology/allergy specialists in Australia and New Zealand.
To meet the challenge of increasing demand for high quality education and training in the areas of allergy and other immune system disorders, ASCIA has developed a comprehensive range of world leading online educational resources and e-training courses that are accessible, consistent and evidence-based:
Whilst the content of all ASCIA resources and courses is subject to copyright, most resources are open access, so anyone can access them. A limited number of resources are only available to ASCIA members, such as food allergen challenge and allergen immunotherapy protocols. ASCIA resources can be printed off the website, linked to or photocopied without infringement of the copyright.
Linking to ASCIA Resources
ASCIA does not allow its educational resources to be rebranded or uploaded onto other websites unless a licencing agreement has been approved.
However, ASCIA provides permission for appropriate organisations to:
Link to ASCIA webpages to access ASCIA educational resources; and/or
Quote directly from ASCIA webpages, with acknowledgement of the source.
For example, some organisations link to the following popular ASCIA webpages:

ASCIA resources are regularly updated, based on changes in the medical literature and expert reviews. By linking to the ASCIA webpages (and not directly to the PDFs) it ensures that only current versions are accessed. ASCIA does not supply its resources in RTF format.
ASCIA Action Plans
ASCIA Action Plans for Anaphylaxis (red) and the ASCIA Action Plan for Allergic Reactions (green) have been developed as medical documents and must be completed (online or on printed copies), signed and dated by the patient's doctor. The plans have fields that can be directly typed into by the treating doctor, but not by parents, school or ECEC staff, as they are medical documents. If copies are required the original signed copy should be photocopied or scanned. ASCIA Action Plans have been developed in a PDF format to ensure the documents are concise, consistent and easily understood. ASCIA Action Plans are not available in RTF format.
Development and Review Process
ASCIA website information is:
Developed by ASCIA committees or working parties, then peer reviewed by the ASCIA membership.
Based on expert opinion and the available published medical literature at the time of review.
Developed without any funding from commercial sources and is not influenced by commercial organisations.
Regularly reviewed by ASCIA and updated where necessary, to ensure the content is consistent with current published medical literature.
ASCIA educational resources and training courses are based on published literature and expert review, however, they are not intended to replace medical advice. The content of ASCIA resources is not influenced by any commercial organisations. Hence there are no conflicts of interest regarding the sources of funding and the editorial content of the website.
Support for specific projects (such as ASCIA e-training courses) from unrestricted educational grants is clearly identified, including the identities of commercial and non-commercial organisations that have contributed funding, services or material for the relevant webpages.
Objectives
The objectives of ASCIA information for patients, consumers and carers are to:
Create greater awareness and understanding of allergy and other immune system disorders.
Help people recognise the signs and symptoms of allergy and other immune system disorders.
Inform people of medically and scientifically proven methods for assessment, treatment, management and prevention of allergy and other immune system disorders..
Improve the quality of life for people with of allergy and other immune system disorders.
Assist patients, carers and their doctors to make informed choices about management of of allergy and other immune system disorders.
Access
The ASCIA website is organised to allow easy access to the extensive range of ASCIA resources from desk top computer, a tablet/iPad or smart phone using a responsive template that adapts automatically to the device being used.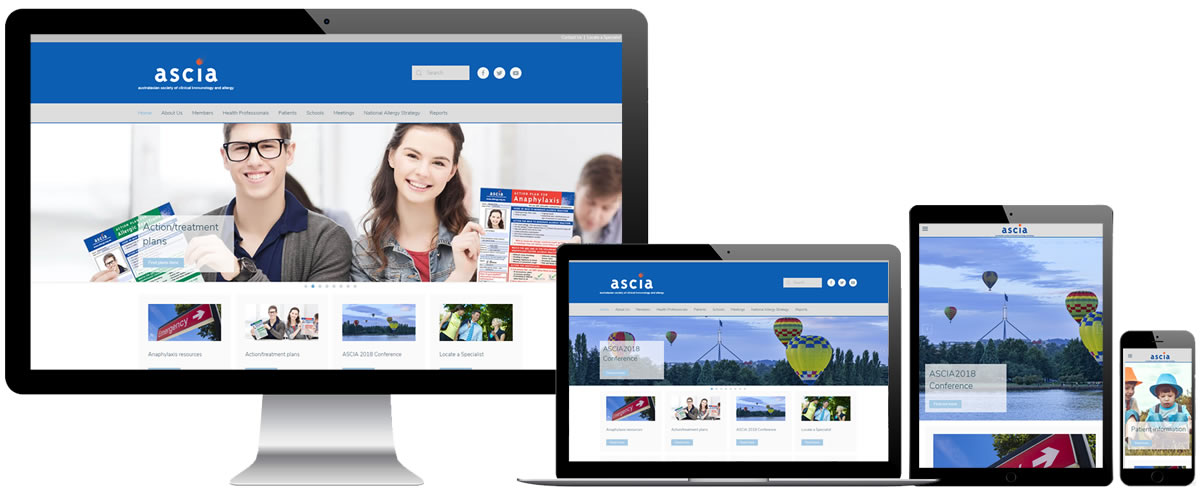 Members Access
ASCIA members have access to the password protected areas of the website through the login on the Home Page or any internal page of the site.
The login module will appear further down the page in tablet/iPad/smart phone mode.
Select Login and the username and password fields will appear. If you have forgotten either your username or password these may be retrieved through the links in the login.
For further access assistance please use our Member feedback form.
Home Page position to the right of ASCIA News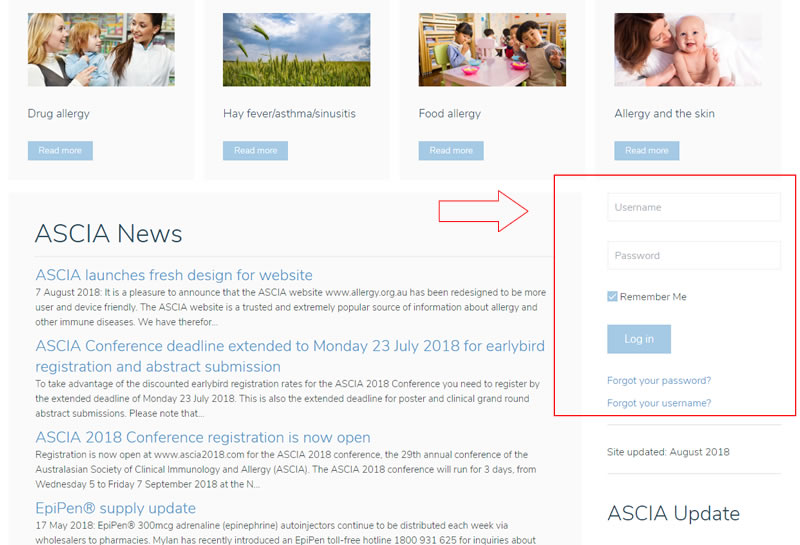 Internal page below content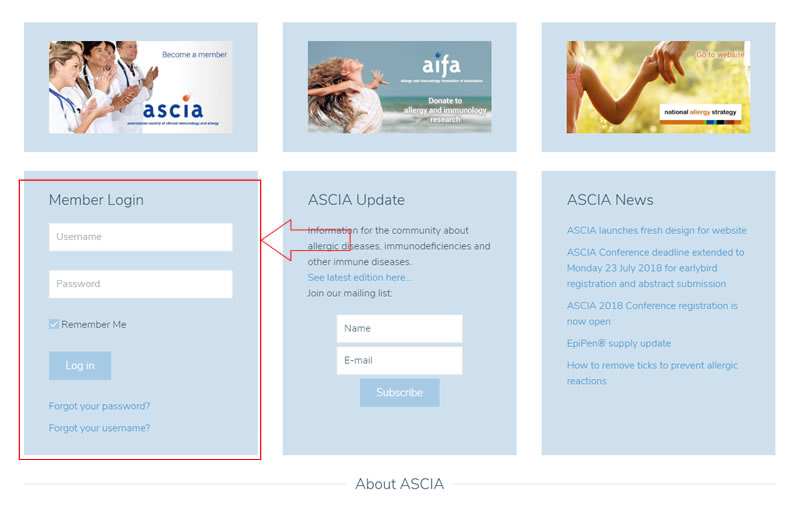 Content updated December 2019