8 July 2020
:
Whilst the past months have been challenging, ASCIA has continued to work on initiatives that support ASCIA's Mission, to advance the science and practice of allergy and clinical immunology, by promoting the highest standard of medical practice, training, education and research, to improve the health and quality of life of people with allergy and other immune system disorders.
ASCIA members will be invited to attend (by videoconference) the ASCIA Annual General Meeting (AGM) in early September 2020 and a draft agenda is on the ASCIA website www.allergy.org.au/members/ascia-agm.
In the meantime the following highlights from 1 July 2019 to 30 June 2020 can be viewed as a pdf at www.allergy.org.au/about-ascia/highlights
Education and Training
ASCIA Website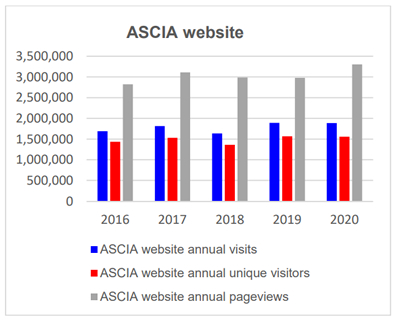 From 1 July 2019 to 30 June 2020 the ASCIA website had over 3.3 million pageviews and over 1.885 million visits.
In 2020 two new ASCIA webpages have been developed in response to COVID-19 and telehealth changes.
www.allergy.org.au/members/covid-19
www.allergy.org.au/ascia-telehealth
All ASCIA anaphylaxis resources have been updated in 2020, including Guidelines, Action Plans and e-training courses.
www.allergy.org.au/hp/anaphylaxis
ASCIA Online Training Courses
ASCIA continues to provide world leading online training, with more than 650,000 registrations since 2010.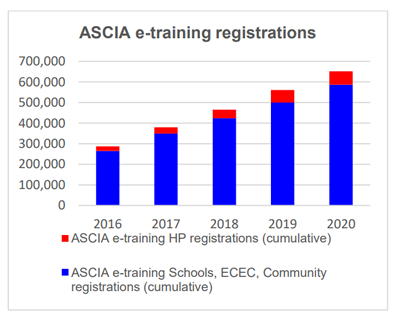 ASCIA Conference
The next ASCIA Conference will be held in September 2021. This follows the hosting of a highly successful ASCIA 2019 Conference in Perth, Western Australia, in September 2019.
Submissions and Communication
ASCIA Submissions and Reports
ASCIA lodged 15 submissions from 1 July 2019 to 30 June 2020, including a submission to the Inquiry into Allergies and Anaphylaxis. The Inquiry Report was published in June 2020.
www.allergy.org.au/ascia-reports
ASCIA Newsletters
ASCIA has continued to inform members and the community each month (over 4,600 subscribers in 2020), about new and updated allergy and immunology information.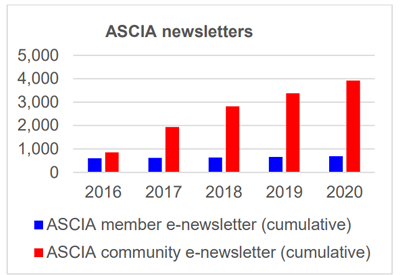 Research
AIFA Research Grants
In 2020 AIFA will award $110,000 in grants for allergy and immunology research, following $120,000 awarded in 2019.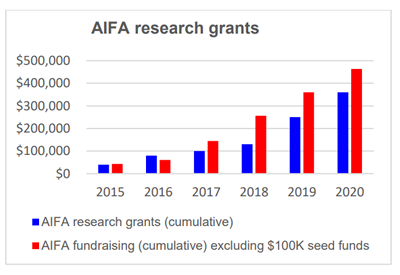 Plans for 2021 include:
Further expansion of ASCIA online resources, member services, AIFA research grants, collaborations and partnerships, including the National Allergy Strategy.
ASCIA 2021 Conference in Melbourne, Australia.
Completion of the National Immunodeficiency Strategy.
Continued work on the ASCIA Education Project.