World Allergy Week
World Allergy Week is a global campaign of the World Allergy Organisation (WAO), which aims to raise awareness of the impact of allergy in our communities.
This year's World Allergy Week will run from 28th June to 4th July 2020, and will focus on anaphylaxis, the most severe type of allergic reaction. In the lead up to World Allergy Week, ASCIA (a WAO member society) and AIFA will highlight new and updated anaphylaxis resources on the ASCIA website www.allergy.org.au/anaphylaxis and the latest research on food, drug and insect allergies www.allergyimmunology.org.au/projects/#latest which are the most common causes of anaphylaxis.
Each year ASCIA and AIFA support World Allergy Week through a range of activities.
---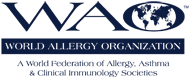 ASCIA is WAO member society
Content updated March 2020