Aeroallergen Immunotherapy (AIT): A Guide for Clinical Immunology/Allergy Specialists

Aeroallergen Immunotherapy: A Guide for Clinical Immunology/Allergy Specialists 300.06 KB

ASCIA AIT Guide References192.08 KB

ASCIA Aeroallergen Immunotherapy Selection Guide 2019
ASCIA AIT FAQ and Consent Form
---
The ASCIA AIT consent form should be completed after a patient or parent/guardian has read the ASCIA AIT FAQ.
AIT product suppliers are listed at www.allergy.org.au/members/allergen-immunotherapy-information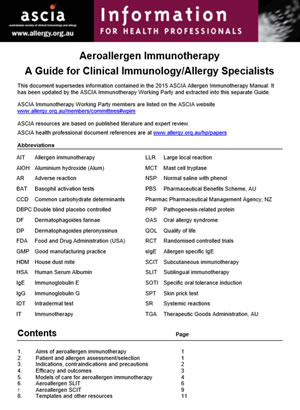 This document supersedes information contained in the 2015 ASCIA Allergen Immunotherapy Manual. It has been updated by the ASCIA Immunotherapy Working Party and extracted into this separate Guide.
ASCIA Immunotherapy Working Party members are listed on the ASCIA website www.allergy.org.au/members/committees#wpim
ASCIA resources are based on published literature and expert review. ASCIA health professional document references are at www.allergy.org.au/hp/papers.
Contents
Aims of aeroallergen immunotherapy
Patient and allergen assessment/selection
Indications, contraindications and precautions
Efficacy and outcomes
Models of care for aeroallergen immunotherapy
Aeroallergen SLIT
Aeroallergen SCIT
Templates and other resources
Webpage updated July 2023