ASCIA 2018 Conference Report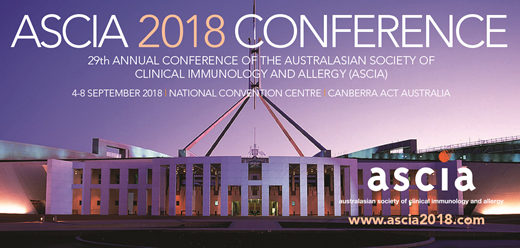 ASCIA 2018 Program Book3.45 MB
www.ascia2018.com
Congratulations and thank you to the ASCIA 2018 conference co-chairs A/Prof Katrina Randall and Dr Elizabeth da Silva, as well as their organising committee (listed below). The ASCIA 2018 Conference in Canberra was a great success, with more than 600 registrations, an outstanding program and a fabulous gala dinner at Old Parliament House. The positive feedback received from delegates has indicated that the ASCIA Annual Conference was once again a highlight of the year for ASCIA members and other health professionals who work in allergy and immunology.
Thank you also to the following international speakers who presented at the conference:
Prof Carlos Camargo (USA)
A/Prof David Fleischer (USA)
Prof David Jayne (UK)
Prof Marc Riedl (USA)
Prof Jonathan Spergel (USA)
Dr Gulbu Uzel (USA)
Prof Antonella Muraro was unfortunately unable to travel due to an acute illness. We thank A/Prof David Fleischer for agreeing to present in the Food Allergy Plenary and Prof Dianne Campbell for presenting in the CFAR Symposium.
We would also like to take this opportunity to thank:
Basten Orator - Dr Raymond Mullins, who presented a fascinating history of ASCIA as part of a narrative review of food allergy/anaphylaxis in Australia; and to Prof Antony Basten for travelling to Canberra for the Oration
Invited speakers and chairs from Australia and New Zealand (more than 80) including Dr Nitin Gupta, Prof Richard Kitching, Prof Daniel (Avi) Lemberg, Dr Geoffrey Peters, Dr Stuart Schembri and Dr Doug Taupin
Organising committee members - Dr Anthea Anantharajah, Dr Gary Chew, Prof Matthew Cook, Dr Carolyn Hawkins, Dr Raymond Mullins
Nurses Day convenors - Narelle Duncan, Elise Field, Lucy McCabe, Anastasia Wilson
Inaugural ASCIA Medical Associates Day convenors - Dr Nick Cooling, Dr Victoria Smith
Inaugural ASCIA DAA Dietitian course convenors - Ingrid Roche and Caroline Salisbury
GP Allergy Update convenor – Dr Raymond Mullins
CFAR symposium chair - Prof Katie Allen and the CFAR team
National Allergy Strategy breakfast team – A/Prof Richard Loh, Maria Said and Sandra Vale who presented some excellent news about long term funding to kick off the conference.
Sponsors and exhibitors, who continue to support the ASCIA annual conference and other educational initiatives
ASCIA and ICMSA staff, who all worked tirelessly to ensure that the conference was such a success
More than 100 abstracts were received for the ASCIA 2018 Conference, comprising:
17 oral clinical grand rounds case presentations, including 6 PID cases presented at the Friday PID breakfast
10 research oral presentations
78 posters, including 19 selected for oral presentations
Congratulations to the clinical grand rounds case and poster award winners who are listed on the ASCIA website www.allergy.org.au/hp/awards-grants/ascia-award-grant-scholarship-recipients#s1
The winners were announced at the ASCIA 2018 Conference closing function, as well as the 2018 AIFA research grant recipient www.allergyimmunology.org.au/news/aifa-2018-research-grant-announcement
All abstracts will be published online in the Internal Medicine Journal by the end of this month, with a link from the ASCIA website www.allergy.org.au/conferences/ascia-annual-conference/published-abstracts-ascia
The ASCIA Annual General Meeting for 2017-2018 was held during the ASCIA 2018 Conference on Thursday 14 September. In case you missed it, the Minutes are available at www.allergy.org.au/members/ascia-agm
The AGM included ASCIA Council elections, so we thank all outgoing members and welcome new Directors and Council members, who are listed on the ASCIA website www.allergy.org.au/members/committees#counc
We look forward to your participation in the ASCIA 2019 Conference in Perth next September, to celebrate the 30th Anniversary of ASCIA. For preliminary information visit www.ascia2019.com
Content updated March 2021