Anaphylaxis Resources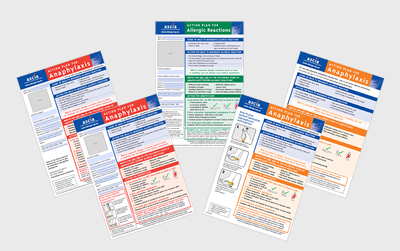 Anaphylaxis is a potentially life threatening severe allergic reaction, that requires immediate treatment with adrenaline (epinephrine).
Anaphylaxis should always be treated as a medical emergency. Call an ambulance (000 in Australia or 111 in New Zealand) immediately after giving an adrenaline autoinjector.
Current ASCIA Action Plans are the 2018 versions, valid for use until the 'due for review date' on the plan. A 2016 or 2017 version of the Action plan is also valid in 2018 if the 'due for review date' is in 2018 or later.
This webpage includes links to:
Action Plans, Checklists
ASCIA Action Plans Updated June 2018
ASCIA Action Plan FAQs Updated June 2018
ASCIA Travel Plan and Checklist
Allergic Reactions Event Record
Anaphylaxis Checklist for General Practice
Anaphylaxis Checklist for Pharmacists
Adrenaline autoinjector information
Adrenaline autoinjector instructions - How to give EpiPen Updated June 2018 - including video
Adrenaline autoinjector instructions - How to give Emerade Updated June 2018 - including link to video
How to give EpiPen - other languages Updated June 2017
Adrenaline autoinjectors for general use
Adrenaline autoinjectors FAQ Updated June 2017
Adrenaline autoinjector storage, expiry, disposal
Adrenaline autoinjector prescription guidelines
Adrenaline for severe allergies patient information
Anaphylaxis Guidelines
Anaphylaxis Guidelines - Schools/Childcare
Anaphylaxis Guidelines - Health Professionals
ASCIA anaphylaxis e-training courses
Anaphylaxis e-training - Schools/Childcare Updated July 2018
Anaphylaxis e-training - Health Professionals Updated July 2018
Anaphylaxis e-training - Community Updated July 2018
Translations of anaphylaxis information
Anaphylaxis patient information - english
Anaphylaxis patient information - other languages
First Aid for Anaphylaxis - english Updated August 2017
First Aid for Anaphylaxis - other languages Updated August 2017
Fact sheet for parents - english and other languages Updated August 2017
How to give EpiPen - other languages Updated August 2017
General allergy information
Information for patients, consumer and carers
Dietary avoidance for food allergy information sheets
Information for schools and childcare
Information for health professionals
Content updated June 2018