ASCIA 2016 Conference Report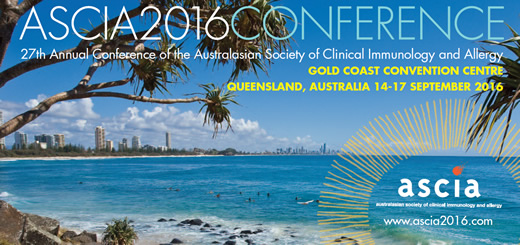 ASCIA 2016 Program Book6.81 MB
27th ASCIA Annual Conference, Gold Coast Convention Centre, 14-17 September 2016
The ASCIA 2016 conference provided 786 delegates with a unique opportunity to hear from 6 international experts and more than 30 local experts on a wide range of areas in allergy and clinical immunology. The conference also included 79 posters, 48 poster presentations and 16 clinical grand rounds presentations.
Congratulations and thank you to Dr Susan Perel (Chair), A/Professor Jane Peake and Dr David Gillis for organising an outstanding program for the ASCIA 2016 Conference. Thank you also to Kathy Beck and Anna Sullivan for coordinating an excellent Nurses' and Dietitians' Update and Professor Katie Allen for another successful CFAR Symposium.
Congratulations to the poster and clinical grand rounds award winners, who are listed at
To access poster and clinical grand rounds abstracts published in the Internal Medicine Journal go to
To access posters go to www.ascia2016.com/posters.php
Thank you to the 6 international speakers who travelled so far to share their expertise:
Professor Abul Abbas, Dr Sergio Rosenzweig and Professor Hugh Sampson from the USA
Professor Marcus Maurer from Germany
Dr Michael Perkin and Dr Glenis Scadding from the UK
Thank you also to our Basten Orator Dr Graham Solley who presented the 11th annual Basten Oration, a tradition since it was introduced in 2006:
This is the third time that Professor Abbas has presented the Postgraduate Immunology Course at an ASCIA Conference, for which we are extremely grateful. This course was the culmination of 5 days filled with opportunities to learn and interact with colleagues. The slides from this course are available on the members section of the ASCIA website: www.allergy.org.au/members/postgraduate-education
The ASCIA 2016 conference included several innovations:
Introduction of a conference app which included most of the posters
ASCIA Nurses and Dietitians Updates were held on Friday, in parallel with conference sessions, to help make the time spent at the conference more efficient and cost effective for all delegates
The ASCIA 2016 Gala Dinner included live music, a raffle and a silent auction, to raise funds for AIFA research grants - to access photos from this event and the conference go to www.allergy.org.au/members/ascia-2016-conference-photographs
Thank you to the team at ICMSA for organising the logistics of the conference, as well as sponsors and exhibitors, who continue to provide ongoing support for ASCIA Annual Conferences and other ASCIA educational initiatives.
The main aim of ASCIA Annual Conferences is to provide an international standard of continuing professional development and opportunities to update knowledge for ASCIA members and other health professionals working in the areas of allergy and clinical immunology. We believe that this conference achieved this aim and exceeded expectations.
We look forward to welcoming you to the 28th ASCIA Conference next September in Auckland, New Zealand.
Content updated March 2021