First Aid Treatment for Anaphylaxis in English and other Languages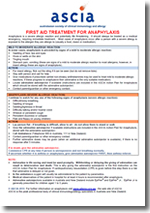 Anaphylaxis is a severe allergic reaction and potentially life threatening.
It should always be treated as a medical emergency, requiring immediate treatment.
Most cases of anaphylaxis occur after a person with a severe allergy is exposed to the allergen they are allergic to (usually a food, insect or medication).
First Aid information is available in English, Arabic, Chinese, Dinka (South Sudan), French, Greek, Hindi, Indonesian, Italian, Macedonian, Persian/Dari, Spanish, Tagalog (Phillipines), Turkish and Vietnamese.
Disclaimer
ASCIA First Aid for Anaphylaxis is based on the content of the ASCIA Action Plan for Anaphylaxis.
It should be used together with instructions on how to use an adrenaline autoinjector (e.g EpiPen) which are also available on the ASCIA website:
www.allergy.org.au/health-professionals/anaphylaxis-resources/how-to-give-epipen-in-english-and-other-languages
This document has been developed and peer reviewed by ASCIA members and is based on expert opinion and the available published literature at the time of review. The development of this document is not funded by any commercial sources and is not influenced by commercial organisations. Information contained in this document is not intended to replace medical advice and any questions regarding a medical diagnosis or treatment should be directed to a medical practitioner.
Content Updated December 2015