Fact Sheet for Parents - Anaphylaxis - in English and Other Languages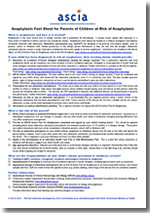 Anaphylaxis is the most severe form of allergic reaction and is potentially life threatening. It usually occurs rapidly after exposure to a food, insect or medicine to which a person may already be allergic. Anaphylaxis must always be treated as a medical emergency and requires immediate treatment with adrenaline.
This fact sheet contains the following sections:
What is anaphylaxis and how is it treated?
If your child has been diagnosed at risk of anaphylaxis, their treating doctor should provide
What is the role of the parent
What are the responsibilities of your child's school, preschool or childcare service
Further information
Download full fact sheets here

ASCIA_anaphylaxis_parent_fact_sheet_2015203.07 KB
This document is also available in Arabic, Chinese, Dinka (South Sudan), French, Greek, Hindi, Indonesian, Italian, Macedonian, Persian/Dari, Spanish, Tagalog (Philippines), Turkish and Vietnamese.
Content updated December 2015