National Allergy Strategy
National Allergy Strategy funding announcement - 5 April 2019
The Australian Government has provided funding to implement National Allergy Strategy projects, which is greatly appreciated. This includes funding that was announced by the Health Minister on Friday 5 April 2019 during the National Allergy Strategy Shared Care Model Roundtable. This funding will allow continued implementation of important projects.
Further long-term support is required to implement larger scale projects. As part of World Allergy Week (7-13 April 2019), we encourage anyone who is affected by allergy to support the National Allergy Strategy's $20 million election plea. This plea has been made to all major political parties and you can show your support by signing a petition and sharing it with family and friends. The petition is open until 13 April 2019, which coincides with the end of World Allergy Week. https://nationalallergystrategy.org.au/news/nas-election-platform
Nip allergies in the bub launch in WA - 27 August 2018
On 27 August 2018 the Nip allergies in the bub website www.preventallergies.org.au was launched in WA, as part of the Food Allergy Prevention Project pilot phase. The website aims to provide practical information to parents about when and how to introduce the common allergy causing foods as well as how to optimise eczema management for allergy prevention. This project has received funding from the Australian Government Department of Health.
Food allergen management in hospitals project
Several resources have been developed to help improve food allergen management for food service providers in hospitals and other institutions. They are designed to be used together to provide a complete resource kit for food allergen management. For more information go to www.foodallergytraining.org.au
A Food Allergy and Intolerance Menu Assessment Tool for dietitians has also been developed in partnership with the Dietitians Association of Australia (DAA). This resource is available to DAA and ASCIA member dietitians from the member sections of both the DAA and ASCIA websites.
National Allergy Strategy event at Parliament House - 16 August 2018
The National Allergy Strategy held an event at Parliament House in Canberra on Thursday 16 August 2018 to celebrate the National Allergy Strategy achievements to date and to call for ongoing funding.
Speakers at the event included Minister Greg Hunt, Minister Ken Wyatt, Senator Richard Di Natale, Shadow Health Minister Catherine King, as well as consumers who shared their experiences, Mr Barry Hickey and Ms Jaclyn Jauhiainen. In his speech, Minister Hunt announced 5 years of funding for the National Allergy Strategy. We are very appreciative of this funding support and will continue to keep you informed of initiatives that we will be progressing with this funding.
The event was well attended by supporters of the National Allergy Strategy, including politicians, stakeholder organisations, health professionals and individuals. For more information go to https://nationalallergystrategy.org.au/news
All about Allergens free online training for food service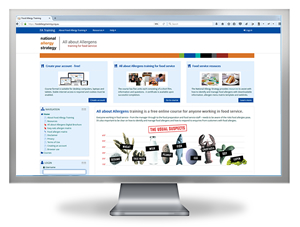 In response to engagement with key stakeholders in the food service industry, a free online training course that includes videos and interactive activities has been developed as part of the National Allergy Strategy and was launched in July 2017.
The course provides training that is fast, easy and freely available at www.foodallergytraining.org.au
A community education website www.foodallergyeducation.org.au has also been developed for people with food allergy and their carers.
250K website - a hub for teens and young adults with severe allergies

Launched in June 2017, The 250K website is a hub for the 250,000 young Australians living with severe allergies. It developed as part of the National Allergy Strategy in response to a national online survey and focus groups sessions with teens and young adults.To access the website go to www.250K.org.au
A 250K slide set that schools can access to help increase awareness about severe allergies is available at www.allergy.org.au/schools-childcare#slides
National Allergy Strategy launch - August 2015
ASCIA and Allergy & Anaphylaxis Australia (A&AA), as the leading medical and patient organisations for allergy in Australia, developed the first National Allergy Strategy for Australia, in collaboration with key stakeholder organisations. For more information go to www.nationalallergystrategy.org.au

From left in central panel: Dr Melanie Wong (past ASCIA President), A/Prof Richard Loh (Chair, National Allergy Strategy Steering Committee and past ASCIA President), Ms Maria Said (Deputy Chair, National Allergy Strategy Steering Committee and A&AA CEO).
Content updated April 2019