Economic Impact of Allergies - Report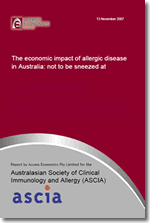 The cost of allergies to the Australian economy is more than $7 billion per year, and most Australians face a wait many months to see a specialist, if they can access care at all. These are among key findings in a report by Access Economics to be released by the Australasian Society for Clinical Immunology and Allergy (ASCIA).
The report, 'Economic Impact of Allergies' outlines how the financial cost of allergies in 2007 was $7.8 billion, with lost productivity and health system expenditure the major contributing factors.
The report may be found now at Economic Impact of Allergies