ASCIA Infant Feeding Advice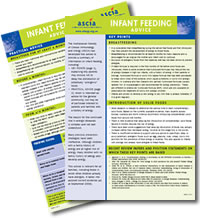 The Australasian Society of Clinical Immunology and Allergy (ASCIA) has developed ASCIA Infant Feeding Advice and information about Allergy Prevention in Children based on a systematic review of relevant published review papers and position statements. Where possible these documents state the level of evidence on which the recommendations are based, and this varies from meta-analysis of high quality randomised controlled trials to expert opinion.
The current ASCIA Infant Feeding Advice developed in 2010 is consistent with findings from recent studies, including the LEAP (Learning Early About Peanut Allergy) trial published in the New England Journal of Medicine (NEJM) on 23 February 2015.
ASCIA intends to update these documents in 2016 to incorporate findings from a of studies and reviews that are due to be released in 2016.

ASCIA Infant Feeding Advice 2010 567.7 KB
The reason for the continued rise in allergic diseases in developed countries is complex and research in this area is ongoing. Although children with a family history of allergy are at higher risk of allergy, many children with no family history of allergy also develop allergy. Many previous allergy prevention strategies have been ineffective, including delayed introduction of allergenic foods.
The current ASCIA advice regarding introduction of solids/complementary foods is consistent with that of the American Academy of Pediatrics and the European Society for Paediatric Gastroenterology, Hepatology and Nutrition (ESPGHAN) recent postion statements.
The ASCIA Infant Feeding Advice and Allergy Prevention in Children (position statement) include information on hypoallergenic formula which is based upon the latest Cochrane review. The Cochrane review is a meta-analysis of the relevant high quality studies, where information from each study is pooled to try and determine the overall effect of a treatment. ASCIA recommendations regarding the use of hypoallergenic formula in primary prevention of allergic disease will only be updated following the next Cochrane review (or high quality meta-analysis) and not on the basis of results from any individual study.
ASCIA Infant Feeding Advice is intended to provide families in Australia and New Zealand with a summary of evidence based information on infant feeding, including an explanation as to why families may choose to introduce solid foods to their infants from 4-6 months (whilst breastfeeding) and not delay the introduction of potentially allergenic foods, to prevent allergy.
ASCIA Infant Feeding Advice is based on the following published Review Papers and Position Statements:
Agostoni C, et al. Complementary feeding: a commentary by the ESPGHAN Committee on Nutrition J Pediatr Gastroenterol Nutr 2008; 46:99-110.
Allen CW, Campbell DE, Kemp AS. Food allergy: Is strict avoidance the only answer? Pediatr Allergy Immunol. 2008 Sep 15.
Greer FR, et al.. Effects of early nutritional interventions on the development of atopic disease in infants and children: the role of maternal dietary restriction, breastfeeding, timing of introduction of complementary foods, and hydrolyzed formulas. Pediatrics 2008; 121:183-91
Host A et al. Dietary prevention of allergic diseases in infants and small children. Pediatr Allergy Immunol. 2008 Feb;19(1):1-4.
Prescott SL, Pediatr Allergy Immunol 2008 Feb 9; [Epub ahead of print]
Sicherer SH, Burks AW. Maternal and infant diets for prevention of allergic diseases; Understanding menu changes in 2008. J Allergy Clin Immunol 2008; 122:29-33
Snijders BE et al Age at first introduction of cow milk products and other food products in relation to infant atopic manifestations in the first 2 years of life: The KOALA Birth Cohort Study. Pediatrics 2008; 122:e115-e122
Disclaimer
This document has been developed and peer reviewed by ASCIA members and is based on expert opinion and the available published literature at the time of review.
Information contained in this document is not intended to replace medical advice and any questions regarding a medical diagnosis or treatment should be directed to a medical practitioner.
The development of this document is not funded by any commercial sources and is not influenced by commercial organisations.
For general advice on allergy visit the ASCIA website www.allergy.org.au
The Australasian Society of Clinical Immunology and Allergy (ASCIA) is the peak professional body of clinical immunology and allergy in Australia and New Zealand.
Content last updated January 2016