ASCIA has developed an extensive range of resources to assist in the management of severe allergic reactions (anaphylaxis). These resources are regularly reviewed and updated, to keep them consistent with changes in the published medical literature and current best medical practice.
For information about how ASCIA information is developed go to: www.allergy.org.au/about-ascia/website-information
Please note that whilst other organisations provide links to this webpage this does not constitute an endorsement of these organisations or their programs by ASCIA.
Scroll down to see quick links to the resources.
ASCIA Action Plans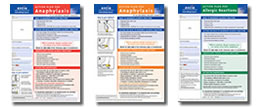 ASCIA Action Plan: Anaphylaxis
ASCIA Action Plans FAQs

---
How to give adrenaline autoinjectors
---
ASCIA Travel Plan

ASCIA Travel Plan: Anaphylaxis
ASCIA Travel Checklist

---
Anaphylaxis checklist

---
Anaphylaxis guidelines

ASCIA Guidelines for prevention of anaphylaxis in schools, pre-schools and childcare: 2012 update

Anaphylaxis Training, Guidelines, Procedures for schools and childcare
---
Anaphylaxis event record

Dietary avoidance sheets

ASCIA Dietary Avoidance for food allergy - information sheets
---
Adrenaline autoinjectors

Adrenaline autoinjectors: general use



Adrenaline autoinjector prescription

Adrenaline autoinjector storage, expiry, disposal
---
First aid for anaphylaxis


---
Fact sheet for parents

Fact Sheet for Parents - Anaphylaxis - in English and Other Languages
This fact sheet is available in English as well as Arabic, Chinese, Dinka (South Sudan), French, Greek, Hindi, Indonesian, Italian, Macedonian, Persian/Dari, Spanish, Tagalog (Philippines), Turkish and Vietnamese.
---
Online anaphylaxis training
To register for ASCIA anaphylaxis e-training for schools and childcare go to www.allergy.org.au/patients/anaphylaxis-e-training-schools-and-childcare

To register for ASCIA anaphylaxis and other e-training courses for health professionals go to www.allergy.org.au/health-professionals/health-professionals-e-training
---
Health professional information

Food Allergy information for health professionals

Anaphylaxis information for health professionals

To access the Anaphylaxis Management wallchart for health professionals go to www.australianprescriber.com/magazine/34/4/artid/1210
---
Information for students
Food Allergy Xplained – new interactive information resource for teenagers - See more at:
How to be allergy aware - information booklet and slide set for school students
www.allergy.org.au/schools-childcare
Content updated December 2015