Health Professionals e-training
ASCIA e-training courses for health professionals have been developed by the Australasian Society of Clinical Immunology and Allergy (ASCIA) to provide ready access to reliable health professional education throughout Australia and New Zealand at no charge. Development of these courses has included an extensive review process involving ASCIA members and representatives from other relevant organisations.
Course information
To register, a username and password must be obtained from the login page of each course.
Each course comprises modules presented via SCORMs which ideally should be completed in order.
An evaluation is included at the end of each module, that allows you to monitor your understanding.
The overall course assessments and certificates are provided in the final module of each course.
Currently available ASCIA courses for health professionals:
Launched October 2012
ASCIA anaphylaxis e-training for health professionals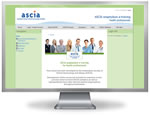 Content updated November 2012