July 10 2013 - ASCIA Allergy and Immune Diseases in Australia (AIDA) Report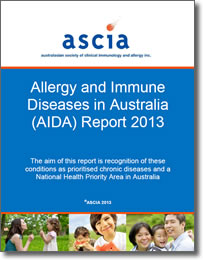 The Australasian Society of Clinical Immunology and Allergy (ASCIA) has released the ASCIA Allergy and Immune Diseases in Australia (AIDA) Report with the aim of these conditions being recognised as one of the 7 most important and prioritised chronic disease groups and a National Health Priority Area in Australia.
ASCIA President, Clinical Associate Professor Richard Loh states "Allergy and immune diseases are among the fastest growing chronic conditions in Australia. Almost 1 in 5 Australians has an allergic disease and this is increasing."
"Allergic diseases impact significantly on the quality of life of those who have the condition as well as those who care for them. Whether you are managing persistent allergic rhinitis or life threatening anaphylaxis, these conditions impact on every day of your life. Increased awareness of these conditions and improved access to patient care is vital as these conditions continue to increase in prevalence and impact on our community", said Maria Said, President of Allergy & Anaphylaxis Australia.
"Whilst the increasing prevalence of allergic disease, particularly the increase in food allergy prevalence, has been reported widely in the media, immunodeficiency diseases are serious, potentially life-threatening conditions that are also increasing in number and complexity", said A/Prof Loh.
"1 in 20 Australians are affected by autoimmune diseases, many of which impact tremendously on their quality of life", he said.
ASCIA seeks recognition of allergy and immune diseases as a prioritised chronic disease group and a National Health Priority Area to assist in raising awareness nation-wide as well as a national approach to improving the prevention and management of these conditions.